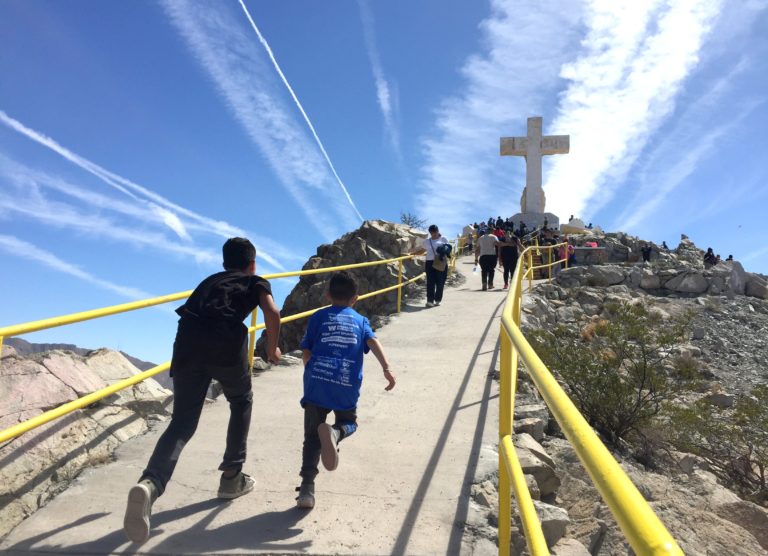 On the last Sunday in October, groups of all ages make the annual pilgrimage up Mt. Cristo Rey. Visitors can hike up Mt. Cristo Rey year-round and overlook three states and two countries – El Paso, Texas; Sunland Park, New Mexico; and Juarez in Chihuahua, Mexico – but it is recommended you check in with local law enforcement before doing so. Atop the Sierra de Cristo Rey, stands a 29-foot-tall statue of Christ that was commissioned by world-famous sculptor Urbici Soler.
Visitors should contact the Sunland Park Police Department at the non-emergency number (575) 589-6600 or visit the station at 1000 McNutt Rd, Sunland Park, NM to notify local law enforcement officers that they will be hiking Mt. Cristo Rey. Visitors should notify the police on how many members are in the group and carry a cellphone to notify police when they are done with their hike or in case of emergency/suspicious activity. For safety purposes, it is highly discouraged that visitors hike alone and during the hours of 6:00 p.m. to 7:00 a.m.
US Border Patrol is active around surrounding areas. The Sunland Park Police Department will notify US Border Patrol Agents of any person(s) hiking the Mt.Cristo Rey as a precautionary measure in case an emergency arises.
The Sunland Park Police Department will respond if needed. Visitors are encouraged to stay hydrated and to be cognizant of their surroundings.